If you've ever played a sport or engaged in athletic training for any length of time, you've probably sustained some kind of sports injury. Sports injuries can occur for a variety of reasons, from acute damage to chronic strain from a particular sport's repetitive motions. Fortunately, you can recover more quickly and comfortably by undergoing chiropractic sports injury treatment in Plantation.

Sports Injuries Are Unavoidable
No matter how carefully you play, you can never eliminate the risk of a sports injury. These injuries can seem inevitable because of the fast-paced nature of many sports. Even a slight miscalculation in balance can tear tendons or cause devastating falls. High-impact sports such as football can do especially serious damage.
Some sports injuries naturally come with the demands of the sport in question. For instance, a tennis player must deliver countless overhand serves, while a golfer must swing a club countless times between practice sessions and tournaments. These repetitive motions can overstress the tissues and joints involved in making them, leading to chronic sports injuries.
Common Sports Injuries
Chiropractors and other practitioners commonly see a few main types of sports injuries. Examples include:
Dislocations - A stumble on the running track or a high-impact injury can dislodge shoulder, hip, knee, or elbow joint components.
Knee injuries - Runner's knee occurs when the unnatural strain on the knee creates chronic inflammation. Twisting your body with your knee planted on turf can tear the ligaments.
Achilles tendon injuries - Athletes who run and jump frequently can stretch or tear their Achilles tendons.
Rotator cuff injuries - Excessive wear and tear on the shoulder from swinging a club or racket can damage the muscles and tendons of the rotator cuff.
Shin splints - runners often develop medial tibial stress syndrome (shin splints) due to overtraining, inappropriate footwear, or uneven weight distribution.
4 Ways to Reduce Your Sports Injury Risk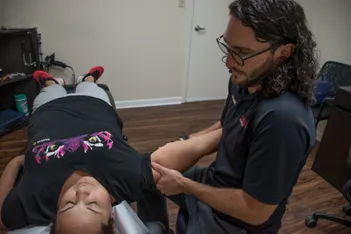 Athletes of all ages can reduce their risk for sports injuries by adopting some smart preventative measures in their training and playing routines. Consider following these three suggestions:
Warm up properly - Stiff, tight tissues are more vulnerable to strains and sprains. Perform some gentle stretches and other warm-up exercises to limber up before training or playing.
Stay in shape, but don't overdo it - Maintaining your conditioning can help you stay strong and flexible. However, you should also schedule periodic rest days.
Get plenty of fluids - Drink water before, during, and after your athletic activity to prevent dehydration which can tighten muscles.
As noted above, even the most careful preventative measures cannot eliminate the possibility of a sports injury in the heat of training or competition. However, you may obtain relief for a nagging sports injury through the all-natural, non-surgical option of chiropractic care.
How Can a Sports Injury Chiropractor Help You?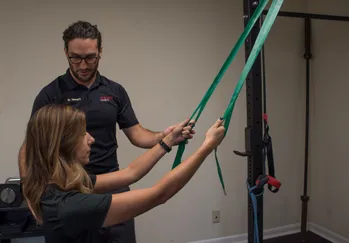 An experienced sports injury chiropractor can diagnose the underlying mechanical problem behind your sports injury by examining your symptoms and if needed, referring for X-rays. Spinal adjustments can often help relieve neck pain, back pain, and extremity pain related to a sports injury. These alignments may also reduce your sports injury risk by balancing your body and taking the unnatural strain off certain muscles and joints.
Chiropractors can adjust more than just spines. If you've suffered an injury or other problem in your knee, ankle, or shoulder, a chiropractor can make extremity adjustments to ease your pain and help you recover. Dr. Stumpff believes in "providing short-term pain relief to get you back to your daily activities as soon as possible."
Meet Dr. Stumpff
Dr. Stumpff knows first-hand about the power of chiropractic care for sports injuries. In his younger days, he was encouraged to give up soccer due to a knee condition. Chiropractic care, knee bracing, and soft tissue treatment got him back on the soccer field. A member of the Florida Chiropractic Association and American Chiropractic Association, Dr. Stumpff is now delighted and honored to help others through non-invasive, drug-free sports injury treatment in Plantation.
Contact Our Sports Injury Chiropractor Today
Don't let a sports injury deprive you of your favorite athletic pursuits or limit other aspects of your life. Contact us today to schedule chiropractic sports injury treatment in Plantation.