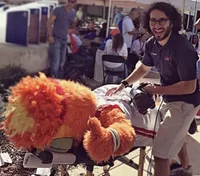 Meet Dr. Stumpff
Dr. Stumpff, is the owner of Stumpff Chiropractic in Plantation Florida. He is a nationally board certified licensed chiropractic physician in the state of Florida. After graduating from Florida State University with a Bachelors degree in biological sciences, Dr. Stumpff continued his education at Palmer College of Chiropractic Florida, where he graduated Magna Cum Laude with a Doctorate of Chiropractic degree. Dr. Stumpff was presented with the most prestigious award at Palmer, The Clinical Excellence Award, based on quality of patient care, leadership potential, knowledge, clinical skills and service. While in school he was the president of the Soft Tissue Club and Palmer Student Alumni Foundation (PSAF), and was involved with the Applied Kinesiology Club as well as Motion Palpation Club.
Dr Stumpff is a native to South Florida. Growing up he attended Chaminade-Madonna where he stayed active playing soccer and a member of the track and cross country team. At a young age, Dr. Stumpff was diagnosed with Osgood-Schlatter Disease, a knee condition that affects growing adolescents and develops a painful lump under the knee cap. This condition lead Dr. Stumpff to seek care where he was informed to "stop playing sports." Being young and active, the search for alternative care to continue playing sports began. This is where Dr. Stumpff found Chiropractic. With the use of soft tissue techniques, stretching and active care exercises combined with knee brace support, he was able to continue playing soccer and living the active life Dr. Stumpff enjoyed.
Dr. Stumpff is still an avid runner and soccer player and continues to use the reap the benefit of chiropractic care and other modalities that he grew up using along the way. By incorporating Chirorpactic care with soft tissue techniques, active care exercises to strengthen and support injuries, Stumpff Chiropractic demonstrates a multi-disciplined approach to serve patients with individual and high-standard care.
Dr. Stumpff has continued education since graduation completing the 100-hour certification course in Applied Kinesiology and M1 Graston certification as well as continuing with the Carrick Institute of functional neurology. Additionally, Dr. Stumpff is a member of the American Chiropractic Association and Florida Chiropractic Association.
In his free time, Dr. Stumpff enjoys staying active with running and hiking with his partner, Ellen, experiencing new music, cooking and is a whisk(e)y aficionado