The all-too-common accident injury syndrome known as whiplash represents far more than just a pain in the neck. The damage sustained when your neck is subjected to excessive force can cause a wide range of uncomfortable symptoms. Whether you got your whiplash from an auto accident, sports injury, or workplace mishap, you need to get the condition as quickly, safely, and effectively as possible. Fortunately, Stumpff Chiropractic offers all-natural whiplash treatment in Plantation FL.
What Is Whiplash?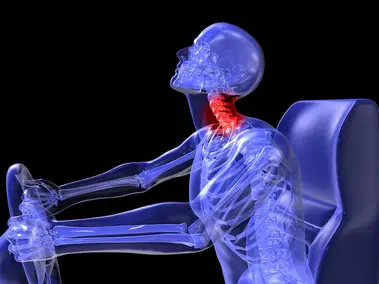 Many people have heard of whiplash without understanding exactly what it is, how it occurs, or what it can do to the body. Whiplash gets its name from the whiplike motions the head and neck undergo when your body experiences a strong jolt or impact. It most commonly occurs as the result of an auto collision, but you can also sustain whiplash from a bad fall, contact sport, or other incident. In fact, some two million Americans suffer from whiplash in any given year.
The example of an auto collision clearly illustrates the mechanisms behind whiplash. While your upper body is restrained by your safety harness, your head is free to fly violently backward and forward. These extreme forces can jar the cervical vertebrae in the neck out of alignment, pinching nerves. They can also tear neck muscles, strain tendons, and stretch ligaments. Even a very low-speed impact can result in a whiplash injury.
Symptoms of Whiplash after an Auto Accident
Whiplash symptoms can develop immediately after your accident, but they often take up to 24 hours to appear. Classic whiplash symptoms include:
Pain
Tenderness
Numbness and tingling
Blackouts
Visual disturbances
Nausea and vomiting
Dizziness
Chest pain
Limited range of motion
Shoulder pain
Anxiety
Depression
Insomnia
How Can Stumpff Chiropractic Help You After An Auto Accident?
Stumpff Chiropractic can diagnose and treat your work injury, sports injury, or auto accident whiplash without drugs or surgery. Our whiplash chiropractor, Dr. Stumpff, will use diagnostic imaging techniques to view the damage to your cervical spine. Dr. Stumpff can then administer chiropractic adjustments to restore your neck's normal alignment and curvature. As part of your holistic whiplash treatment in Plantation, you may also receive treatments such as:
Myofascial release- This soft tissue modality can speed healing and break up scar tissue.
Non-surgical spinal decompression - This technique gently stretches the cervical spine to treat herniated discs and pinched cervical nerves.
Physical therapy - We can provide kinesiotaping, ultrasound therapy, muscle stimulation, and other soothing therapeutic techniques.
Rehabilitation- Exercises can strengthen and stabilize injured neck tissues.
Our wide range of healing services makes Stumpff Chiropractic the premiere whiplash treatment center in Plantation. Unlike some other clinics, we don't just anesthetize your pain and other surface symptoms; instead, we fix the problems at the source. We also stand by our mission of "providing short term pain relief to get you back to your daily activities as soon as possible."
Meet Dr. Stumpff
You couldn't ask for a more skilled and sympathetic whiplash chiropractor than Dr. Stumpff. His own injury history led him to discover the immense benefits of chiropractic treatment and inspired him to offer the same treatment to others. He also learned from personal experience that a personalized mix of chiropractic adjustment and other natural therapies can work wonders for many injuries and chronic pain conditions.
Give Your Neck the Whiplash Care It Needs
Don't let a bad case of whiplash leave you unable to work, play, sleep through the night, or drive a car. Our auto accident chiropractor can evaluate your damaged neck, make any necessary spinal adjustments, and provide you with a short-term holistic treatment and recovery plan designed just for you. Contact us today to schedule whiplash treatment in Plantation.